As I meet with a customer or open up a quilt I received in the mail it gives me the opportunity to work with other creative artists and help them complete their works of art. I recently reminded myself of the beauty of the quilts I have done. One of the most important attributes I have noticed is that all of them have been accurately pieced, not perfect and we should not expect that of ourselves, but they are pieced to the point where there are no obvious mistakes or errors and the quilt is flat.
I remember back to the days when I longarm quilted at the quilt shop and every so often we would get in a quilt, made with love, but you see, maybe it was new love? Sometimes I would lay these quilts out on the table and there would be hills and valleys, no flat plains for this one. Another issue would be the borders, oh my. The extra fabric, maybe from stretching when sewing, or not measuring the quilt before applying the border caused this to happen. "What am I to do" I would say to my boss, how do I quilt this, how do I fix it? I think she had seen all this before and would politely say, "do the best you can." So that is what I did. Sometimes I would sew a seam in the border to take in the extra fabric. To eliminate the "fullness" of the quilt and help it lay flat, I would tighten the quilt on the frame. I do not remember a time that a customer complained about the quilting and I am pleased with that.
So, back to my recent customer quilts, kudos to all of you for taking the time and have the ability and knowledge to sew such well made quilts, let's look at some!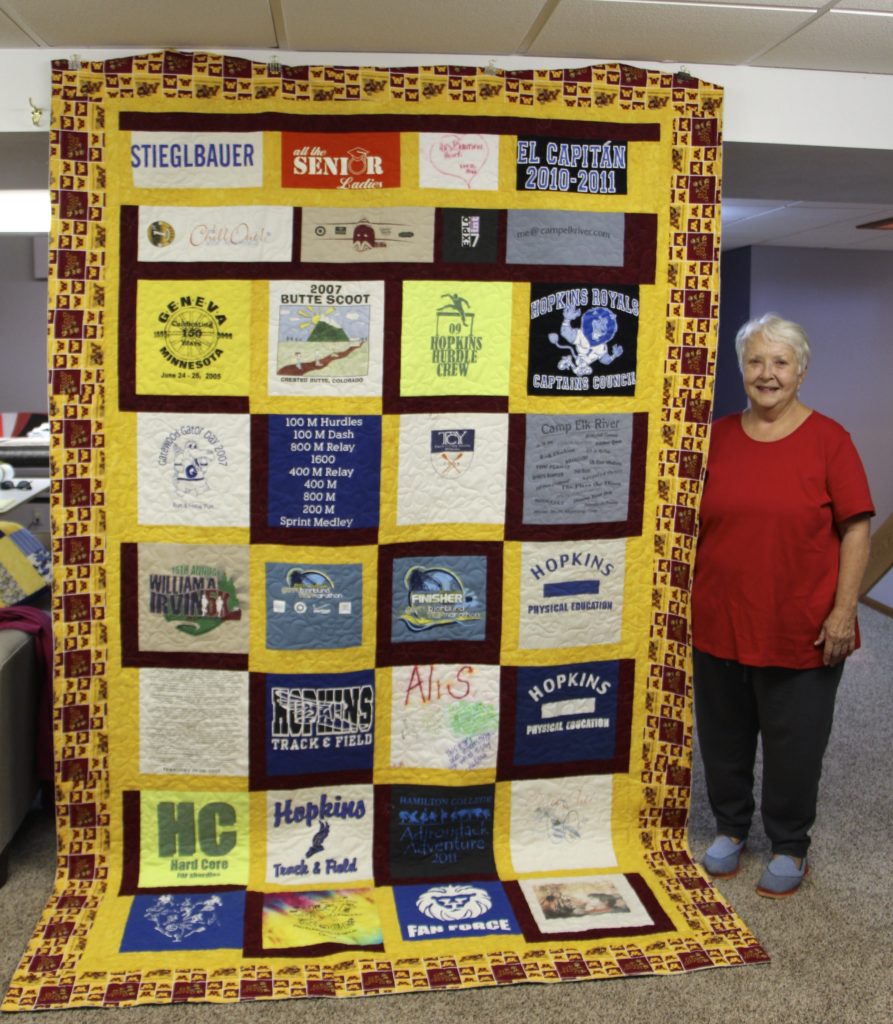 Cheryl from MN made this one for a co-worker's daughter. It is her design as she did not have a pattern to follow. I don't think she is especially fond of t-shirt quilts, but this one turned out great and I am sure the Minnesota gopher student will make good use of it on those cold winter nights in her dorm room.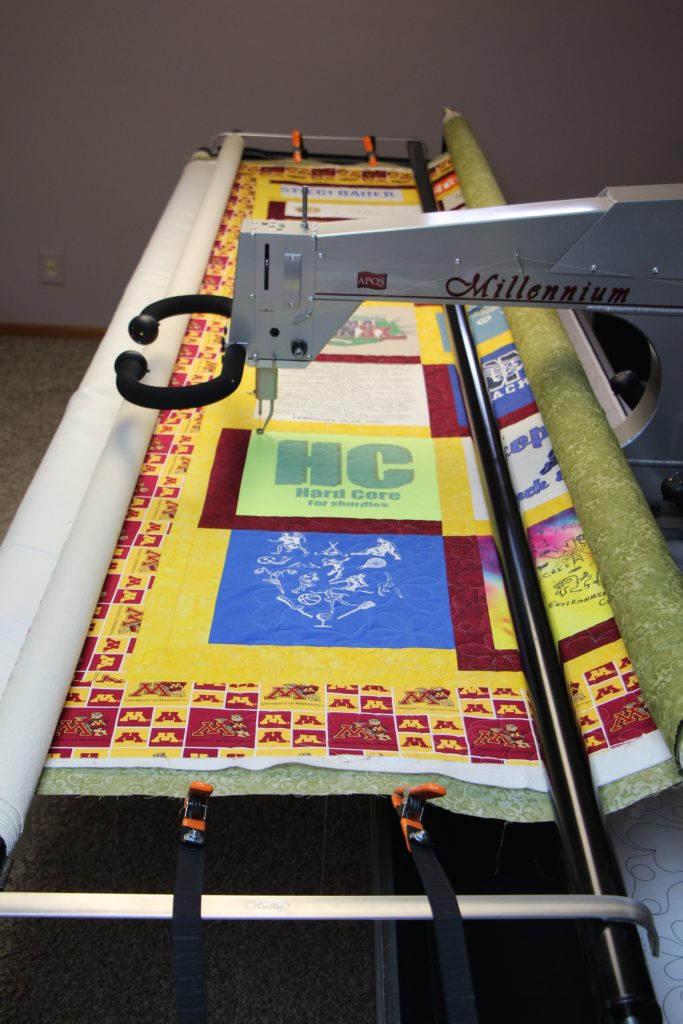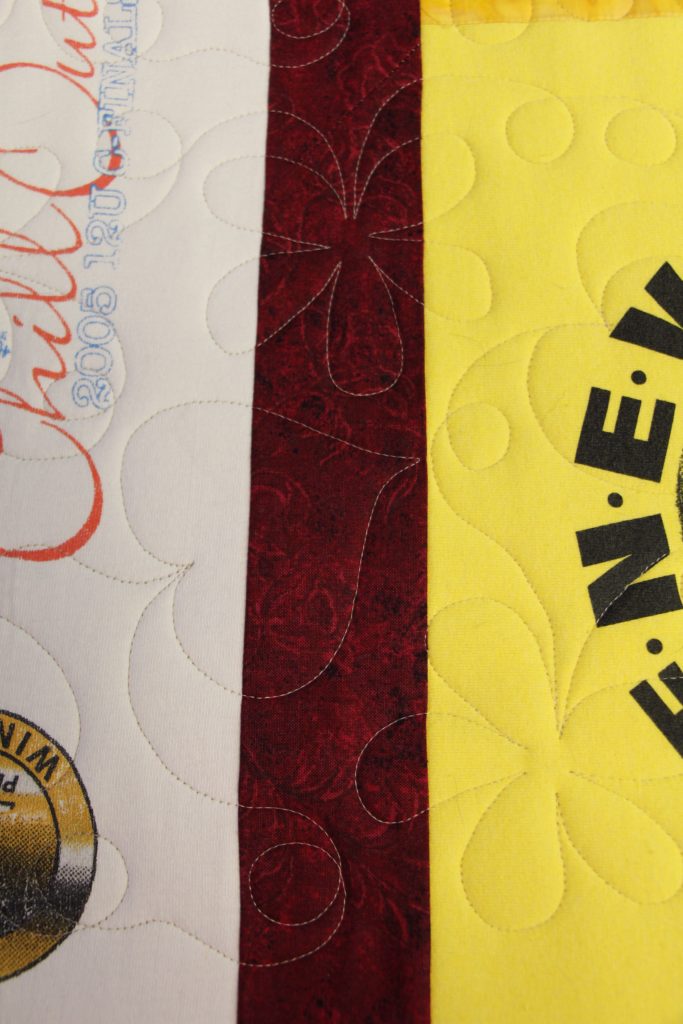 Cheryl choose Hearts in Bloom pantograph for this quilt. I was happy to work with Cheryl as she brought the quilt to me on a Monday and picked it up on Friday! Happy Quilting Cheryl!
Let's look at a more traditional one now, this one belongs to Barbara, also from MN who likes to support independent longarm quilters.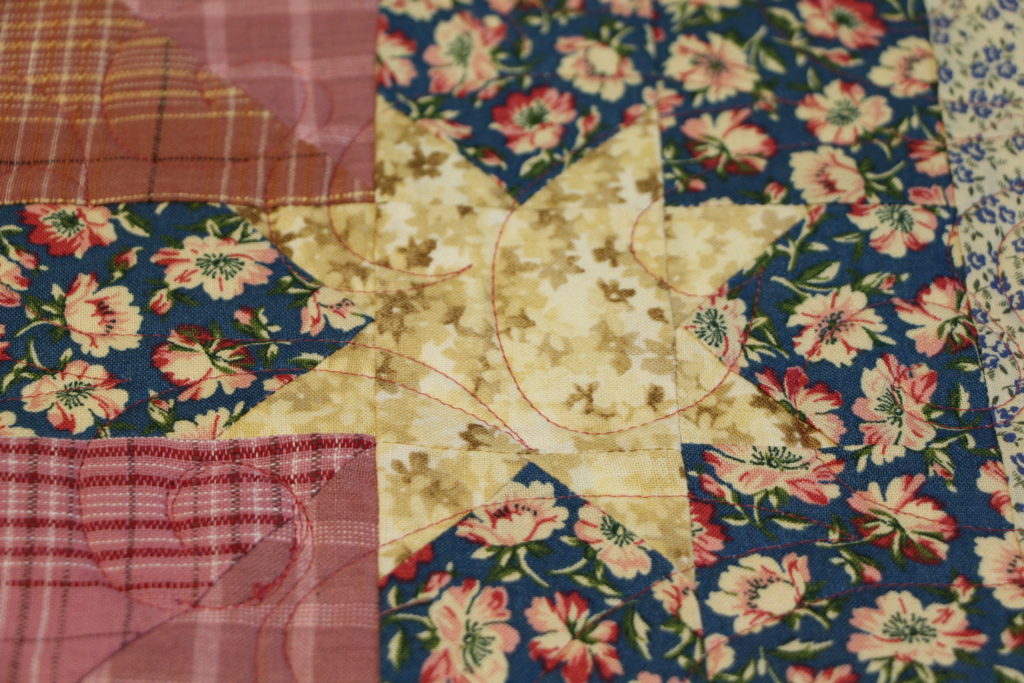 It may be hard to see because of the fabric patterns, but almost all of her points and seams match, I can tell she has been sewing for a while.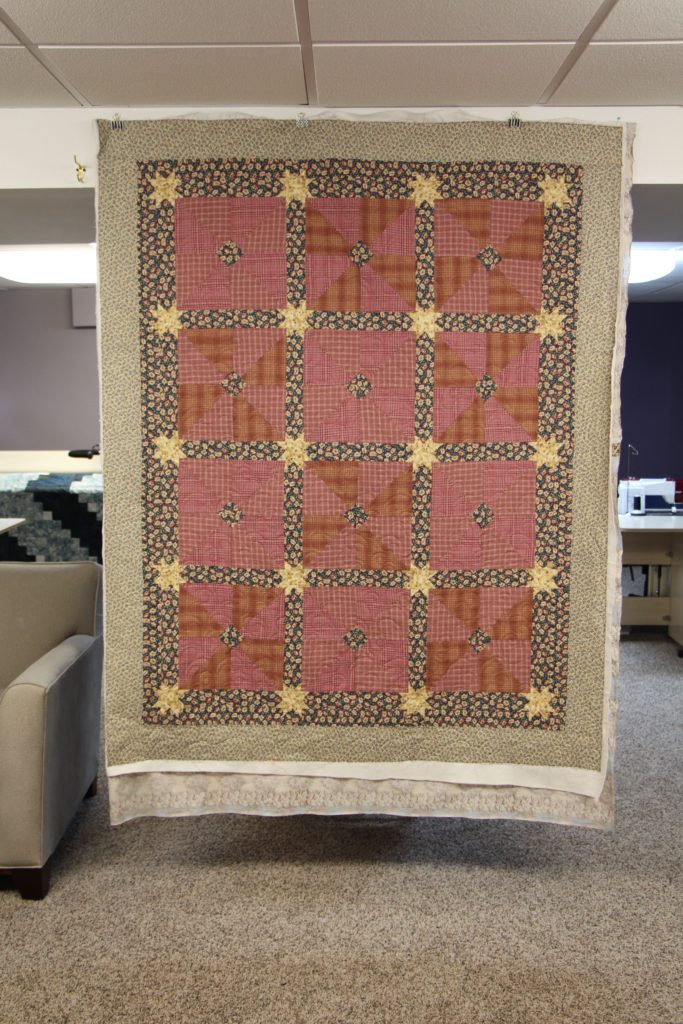 This is her completed quilt with the Nouveau Feathers pantograph which combines the traditional feather pattern with a modern twist. A dusty pink thread was chosen to complement the pink blocks and flowers in the border.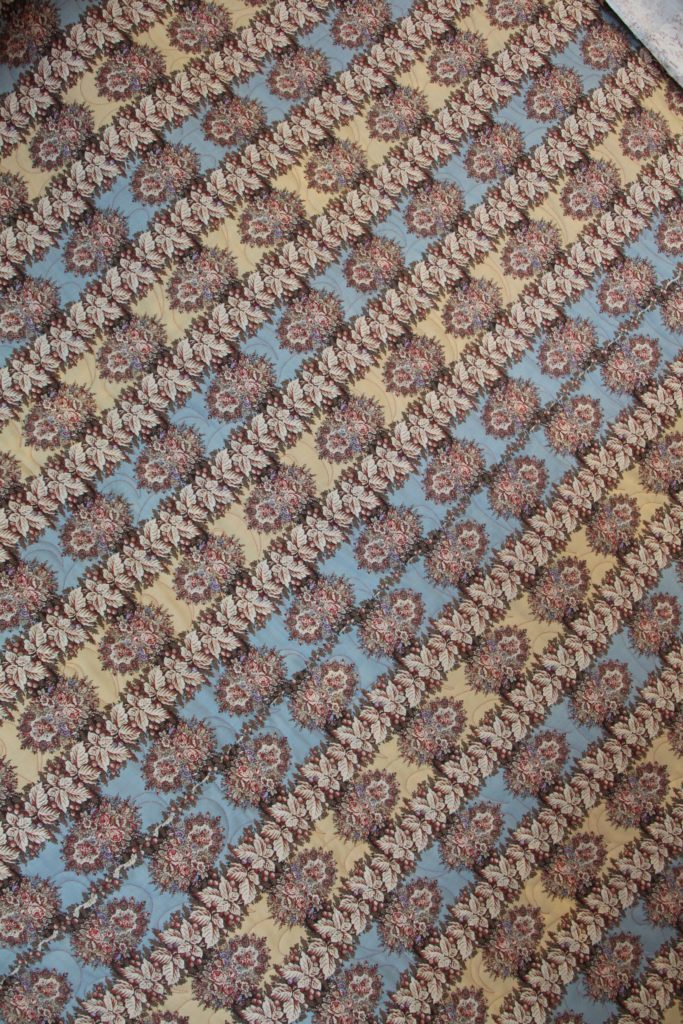 Now lets look at the back seam, if you can find it! Barbara made a lovely quilt, maybe she will keep this one and I look forward to working with her again!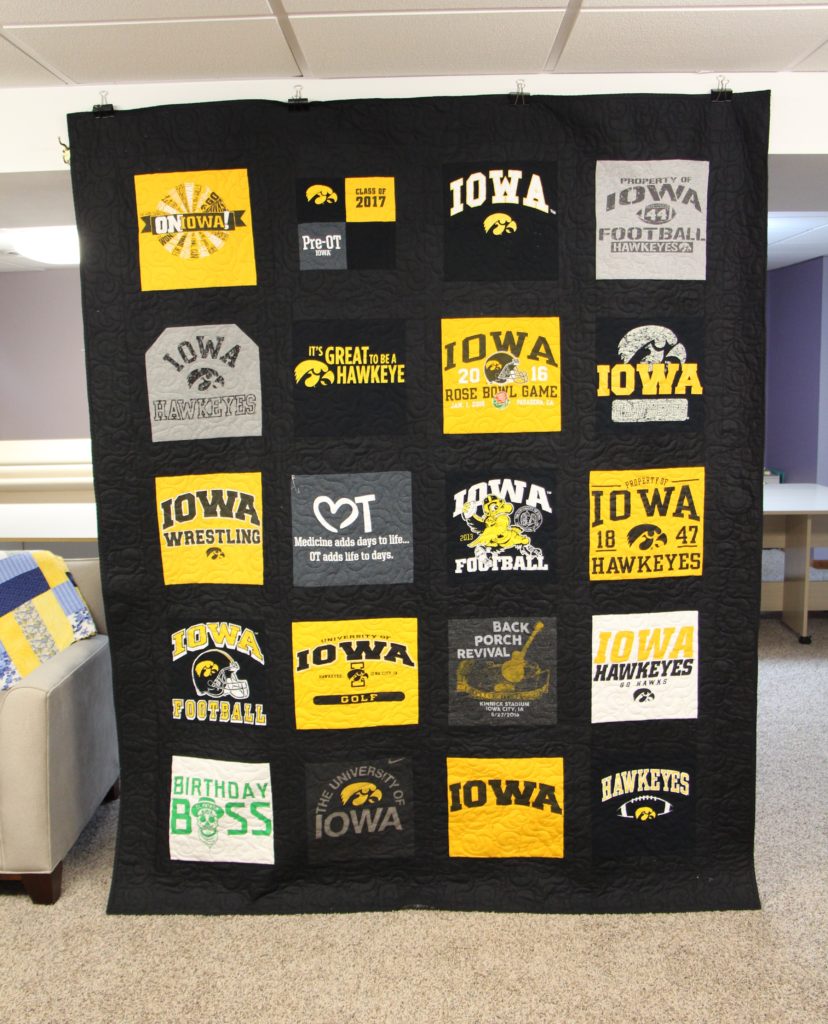 The last quilt we will look at is from Ellen in New Hampton who's daughter graduated from the University Of Iowa. Ellen had the quilt top completed, but the local quilt shop was not able to get it done in time for the graduation. I met Ellen on a Sunday and by Wednesday, the finished quilt was in her hands. I even completed the binding for her because she is a busy working woman with limited extra time.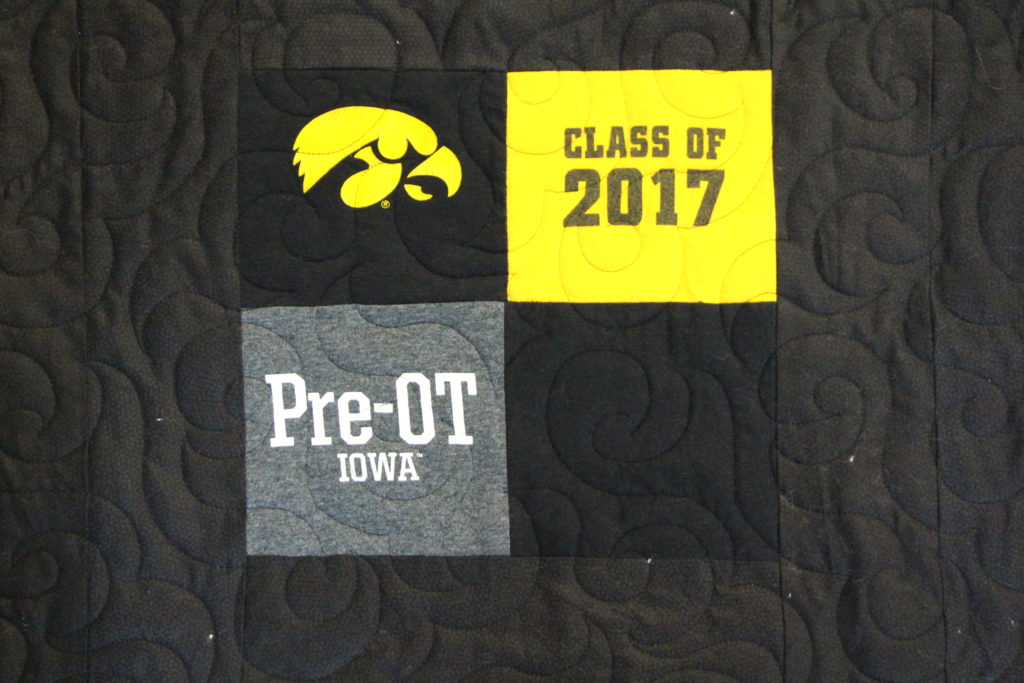 This little block was one of our favorites because she used the shirt sleeves to make this. I think it adds some variation to the overall appearance of the quilt, and she needed another block, good idea! Tendril, is the quilting pattern she picked as this one is a popular one.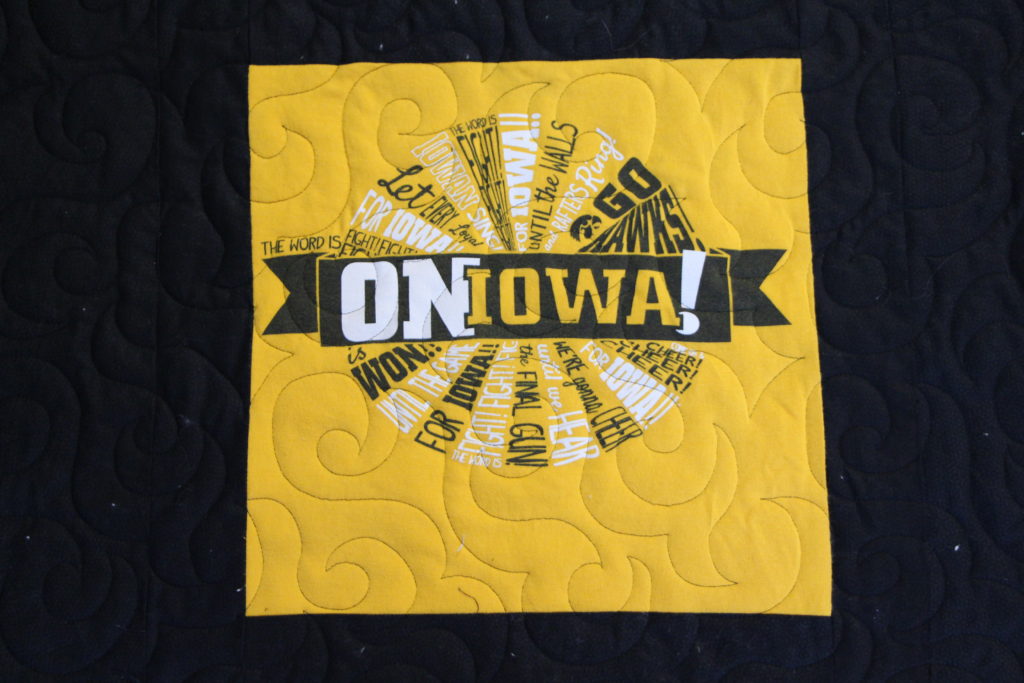 This cute block contains the words to the school's fight song so everyone can sing along! With her completed quilt in hand Ellen was able to surprise her daughter and I was excited to help her out!
I really do have an awesome "job"! I work out of my home, I interact with new quilters, my studio is an ever changing art gallery and I can help others complete their goals. Life is Good:)