As most quilter's understand, there are usually projects that come up or need attention sooner than later, altering Victoria's dress was one of those. You don't hear me talk to much about Victoria, who is our oldest daughter because she lives in Daytona Beach, Florida with her boyfriend Grant. Here is a photo of them at the Wishmaker's Ball that was held this past Saturday in Orlando where over 1 million dollars was raised for the Make A Wish foundation.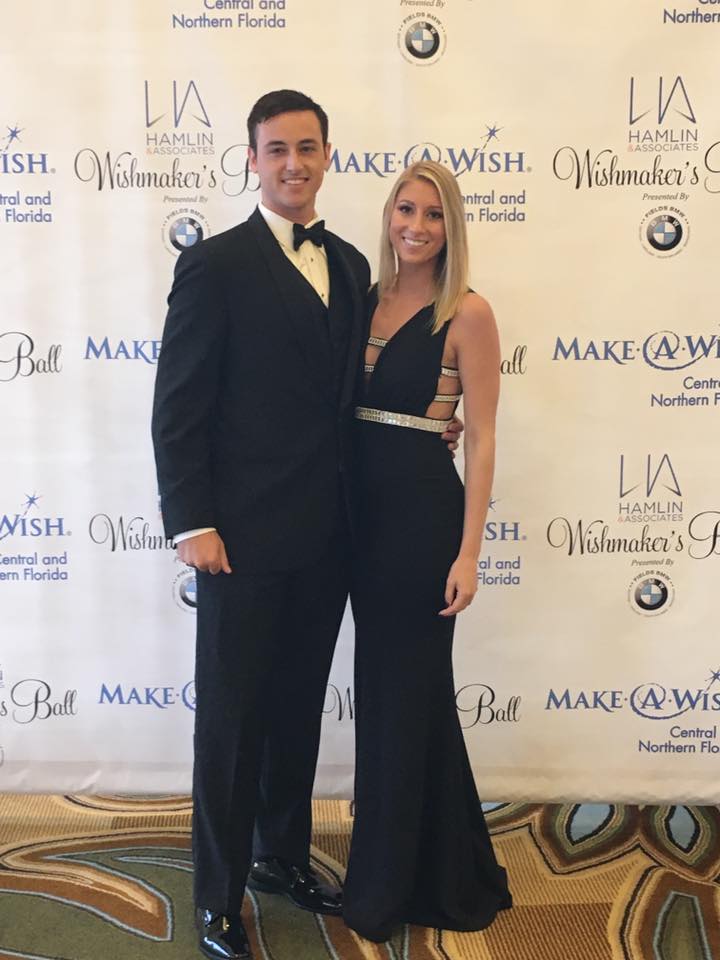 Recently she purchased a gown for the ball and it needed a few alterations. Since she does not have a sewing machine yet, she mailed the dress to me, I completed her alterations and sent it back to her. The gown has a V neckline that needed to be brought up a bit at the shoulders and the length was 1/2 inch to long.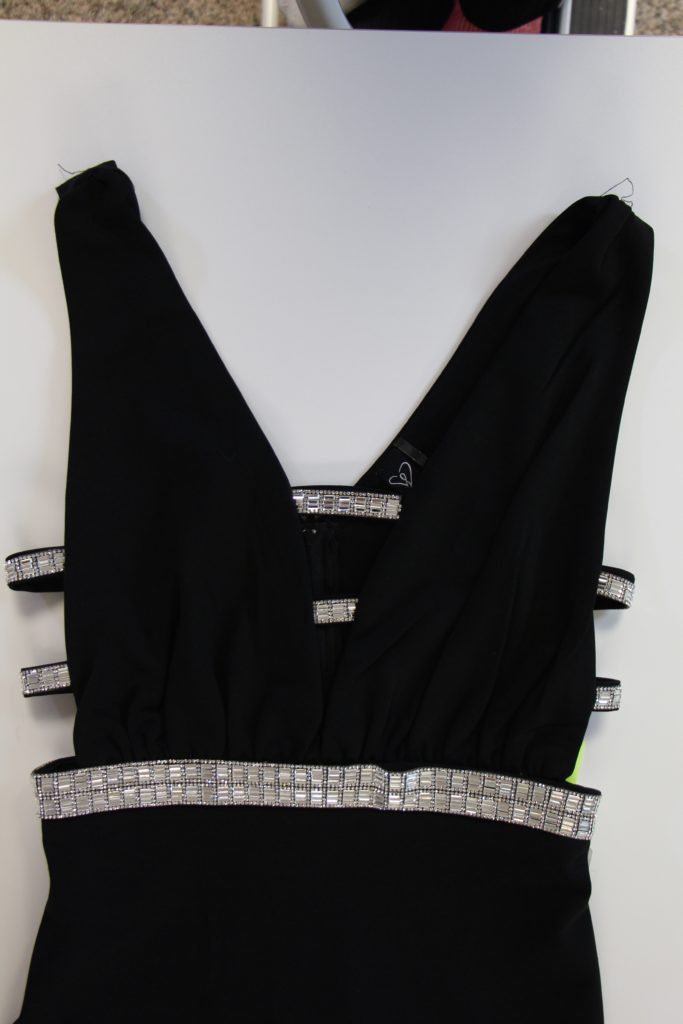 Here in the photo you can see how taking in the shoulder seam will help as I simply machine stitched it.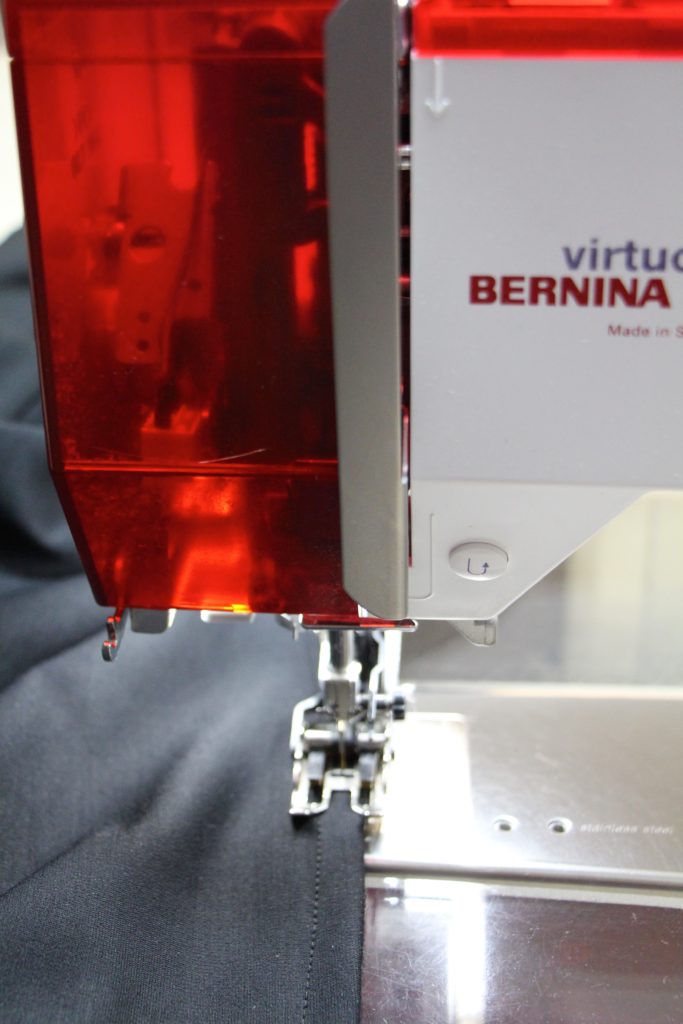 I used my walking foot for this and here you can see I used it for the hemming as well. Remember, the walking foot is not just for quilting! The fabric is a stretchy knit and I knew from past experience I would have success using this foot. It worked beautifully. I was happy to help her out, she and Grant looked wonderful and they had a very nice time supporting the Make A Wish foundation.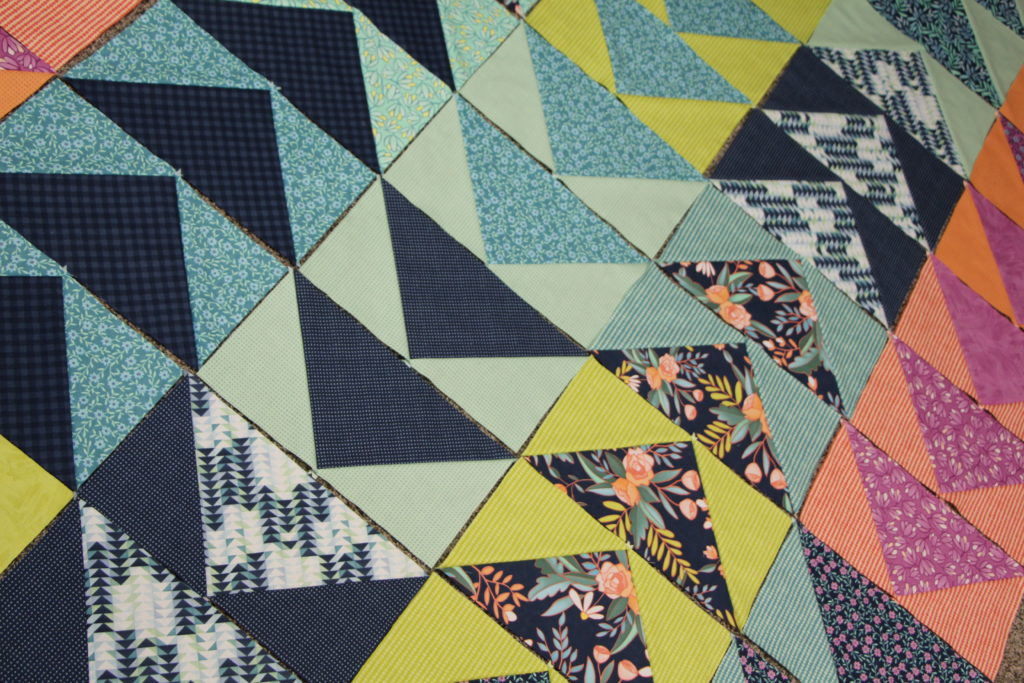 Do you remember this project, it is Noelle's flying geese quilt she started on Easter break. It was coming along quit nicely until she packed up for a service trip to New Orleans, came home for 2 days and is now in Germany for 3 1/2 weeks. Both of these destinations are through Wartburg College and here she is with the town of Herrnut behind her, I think?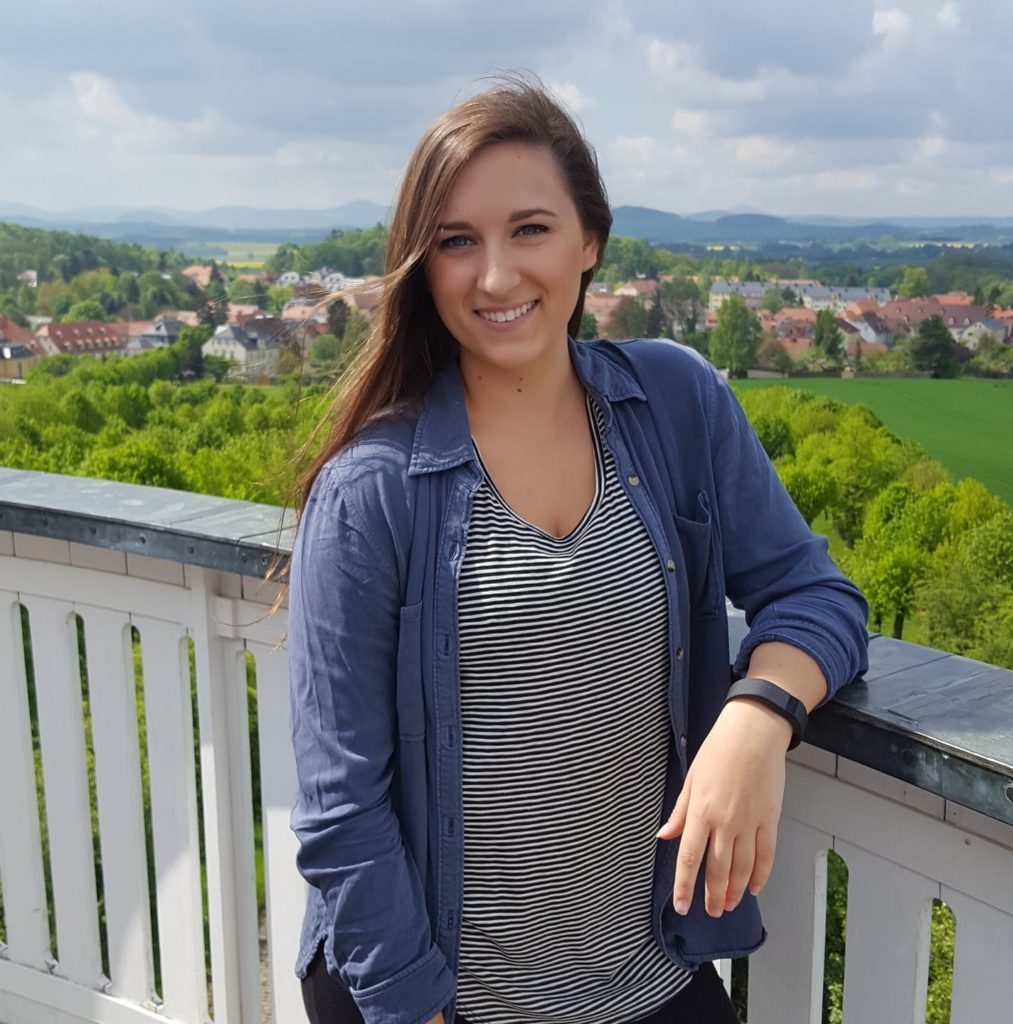 It is nice for us because we have her daily itinerary and usually are able to video chat via Facebook with her almost everyday, depending on wi-fi connection. Their travels focus on the history of Lutheran Religion. We are happy she has this opportunity. Here is an example of the days itinerary, May 16, 2017, Tuesday: Dresden
We leave Herrnhut and visit Dresden. Upon arrival, visit the Frauenkirche, Church of Our Lady Lutheran, which remained in ruins from the WWII bombing until a recent restoration. Hear about the rebuilding of the church as well as the reconstruction of the entire city. After lunch on your own, leave Dresden and drive south to the nearby Germany-Czech Republic border and continue through the countryside to Prague.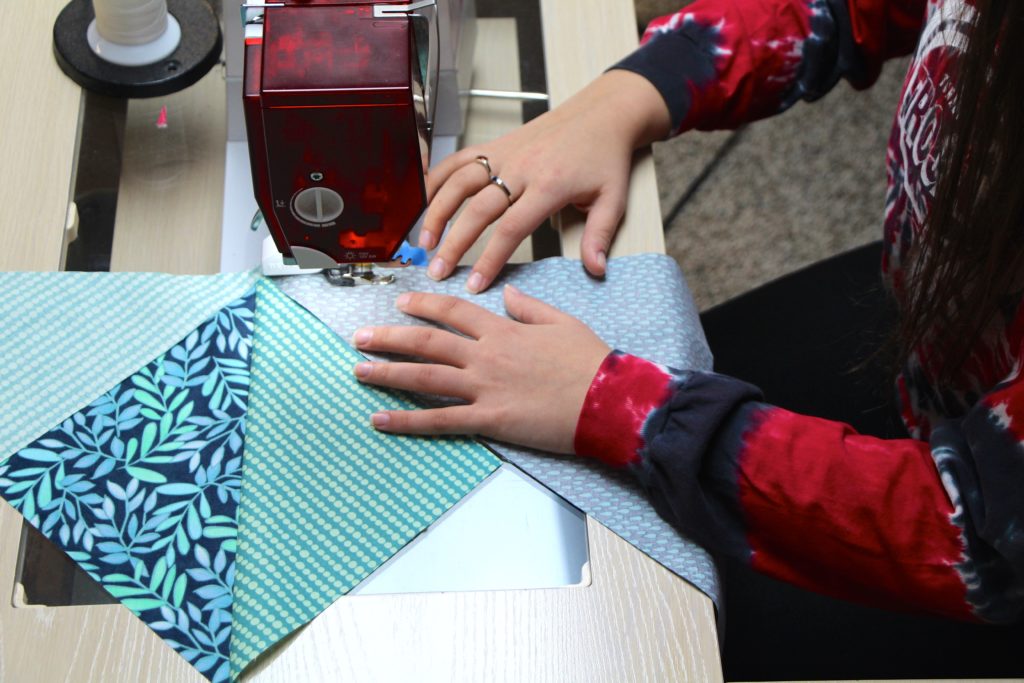 When she returns home she will get settled and then I am sure the quilt will be finished as she is excited to use a new quilt. The blocks are all completed and 2 rows are together. As you recall, this is a quick project that she wanted to complete in a timely manner.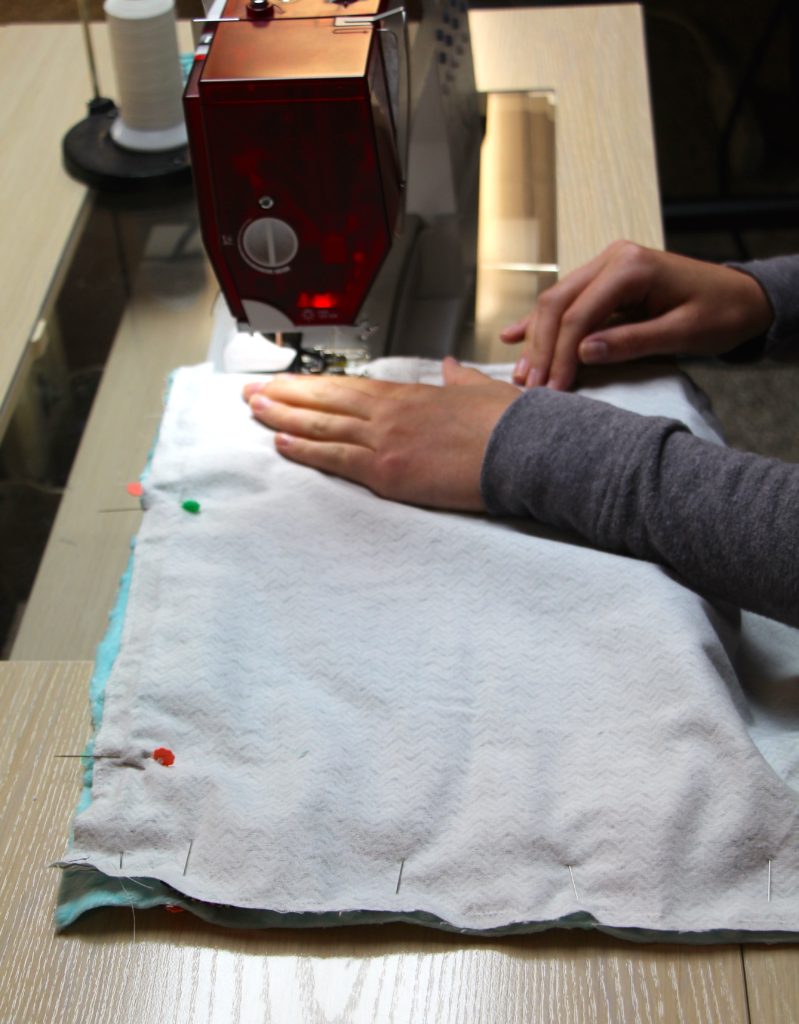 Can you guess what Gene Anne is making? Can you believe it our family has never made one of these. Gene Anne's Child Health college class required them to make a project for an infant, for example a toy or a book. Well, what do quilter's do in this situation? They make what they know how to do, something that is fun and based on their past experiences, they know it will turn out.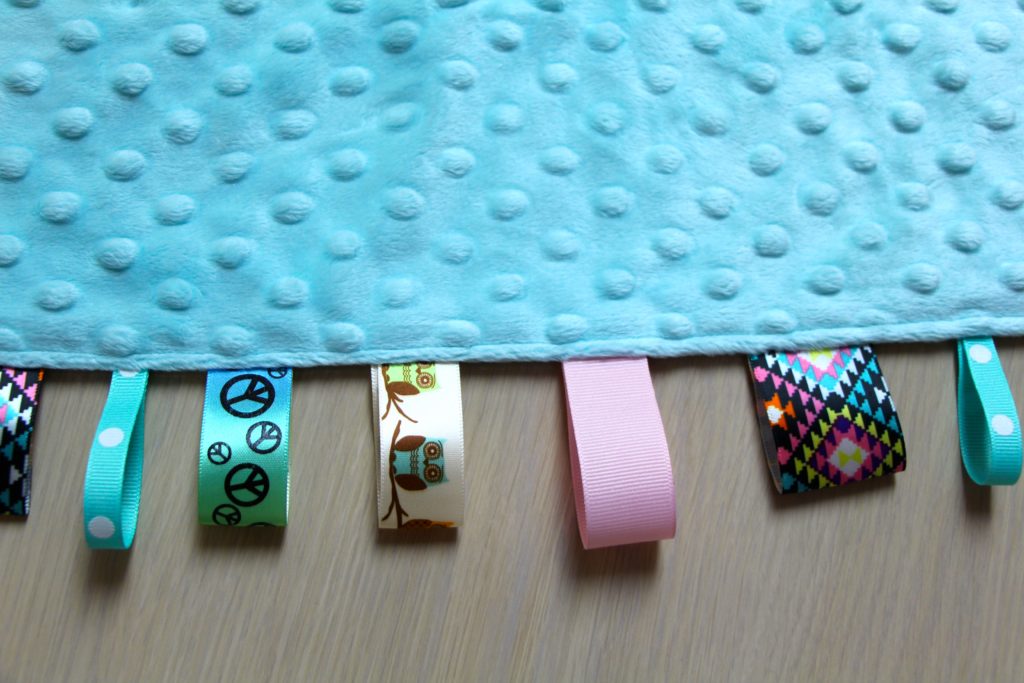 She made a tag blanket because, what quilter doesn't have extra fabric and we have a drawer with assorted ribbons, so perfect. She used minky on one side and flannel on the other. She was so pleased with how it turned out, and I think she scored 100% on her grade.
Today I will be completing a customer quilt and she has agreed to a Q and A! She works at a quilt shop and I will introduce you to her in an upcoming blog, I hope she gives us some insider tips! Let me know if there are any specific questions I should ask her and have a Great Day!