What's for supper, as a mother how often do we hear this in our life time? I am probably like you when sometimes you just don't feel like cooking or even worse, there is no plan for what to make! A plan makes preparing supper so much easier and when we remind ourselves that we are thankful we have a kitchen and food to cook we stop feeling like this is a burden.
Supper here is usually around 6. My husband Todd will eat as he comes home from his business Fredericksburg Plumbing and Heating and before he goes to my parent's farm where he helps with chores, field work and anything that needs to be done. I think I do pretty well with the meals to keep it warm or that it is on a plate ready to warm up if I am not at home. We also send meals to the farm everyday day for my parents, because my mother is disabled and my brother has a learning disability. When I cook meals I plan for at least 6 servings and often make extra so we can have left overs, this way it is an easier meal prep every other day! Here is an example of what I made one day a few weeks ago.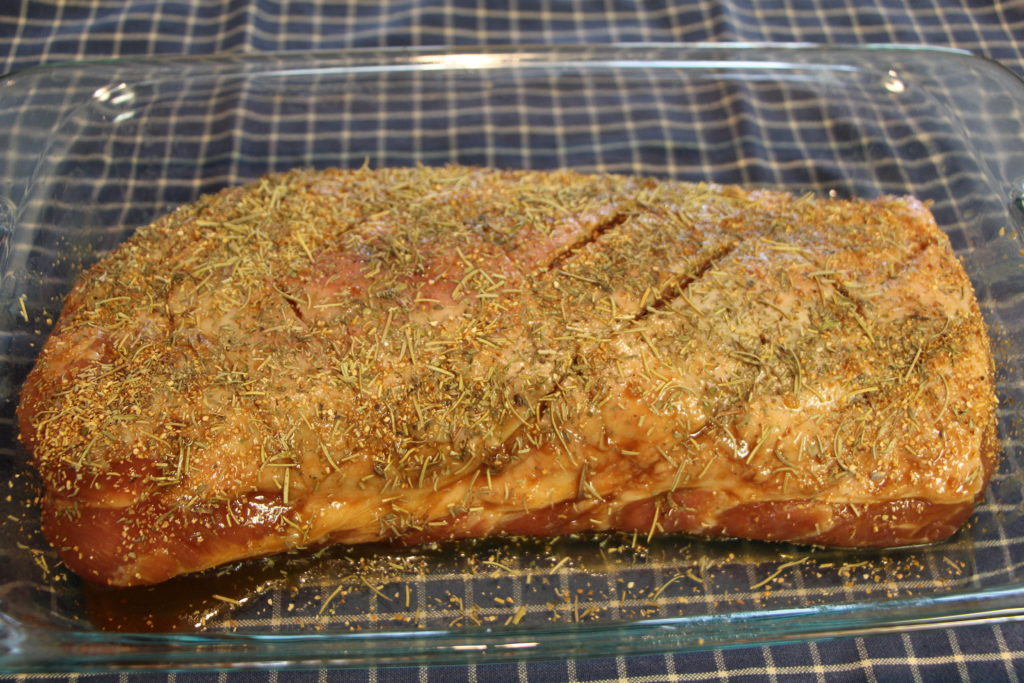 My apologies to you if you do not eat meat, I grew up on a dairy farm and we also raised our own chickens so this is what we ate. This is a pork loin and it is an easy go to main dish. I can usually buy the whole loin (about 10 pounds) for $1.89 to $2.29 a pound it is a better price this way. At home I will divide this into thirds to make sliced BBQ pork for sandwiches, chops or roast. On this day the roast was kept out for supper and the rest of the meat was packaged and frozen.
Prep time is super short as I rubbed a generous amount of seasonings on all sides of the pork, here is what I used.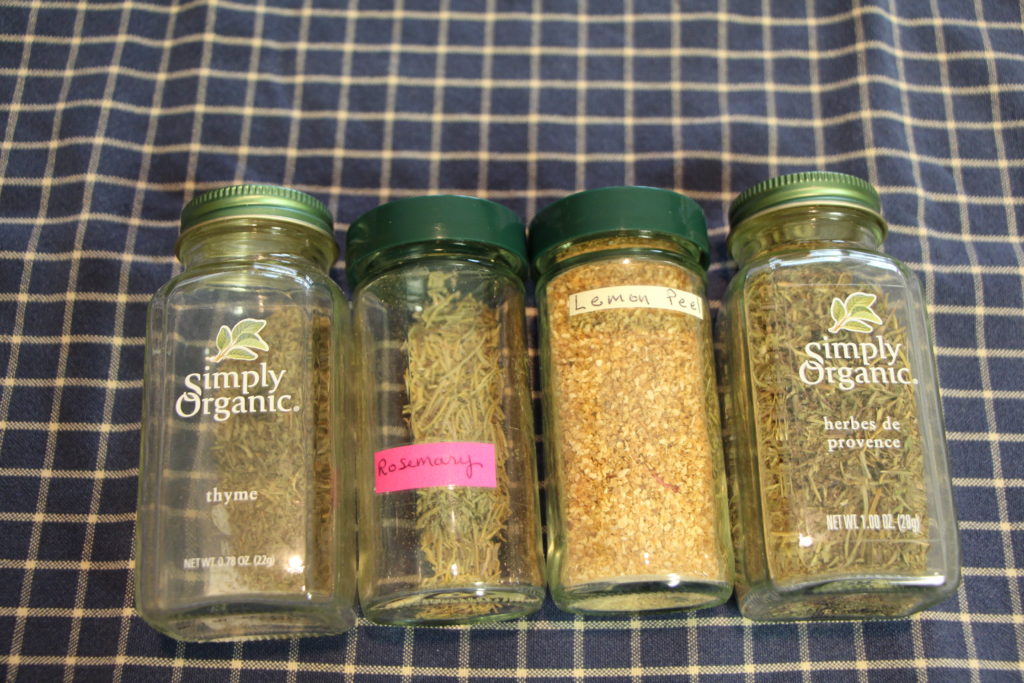 I buy my seasonings from the Oneota Food Co-op in Decorah, Ia, it is a great store and I will talk about that in another blog. As you can see, thyme, rosemary, lemon peel and herbes de provence, which is a combination of herbs including lavender flower, were used this time as there is such a variety of options. The pork is then put in the oven with a small amout of liquid in the bottom of the pan, at 350-400 degrees depending on how much time I have, a higher temp decreases roasting time, until the internal temp of the pork is about 145 degrees, I then let it rest for about 15 minutes. It is then ready to slice or I keep in in the oven using my "keep warm" setting at 170 degrees. I have had a Jenn Air oven for many years, so I use the roast setting for the pork as well.
At this point I can go to my longarm and quilt, keeping my timer close by I can set it and then check on the oven as needed. Another option would be while the oven is hot, you might as well make something else, words from my mother, so pie crust it is.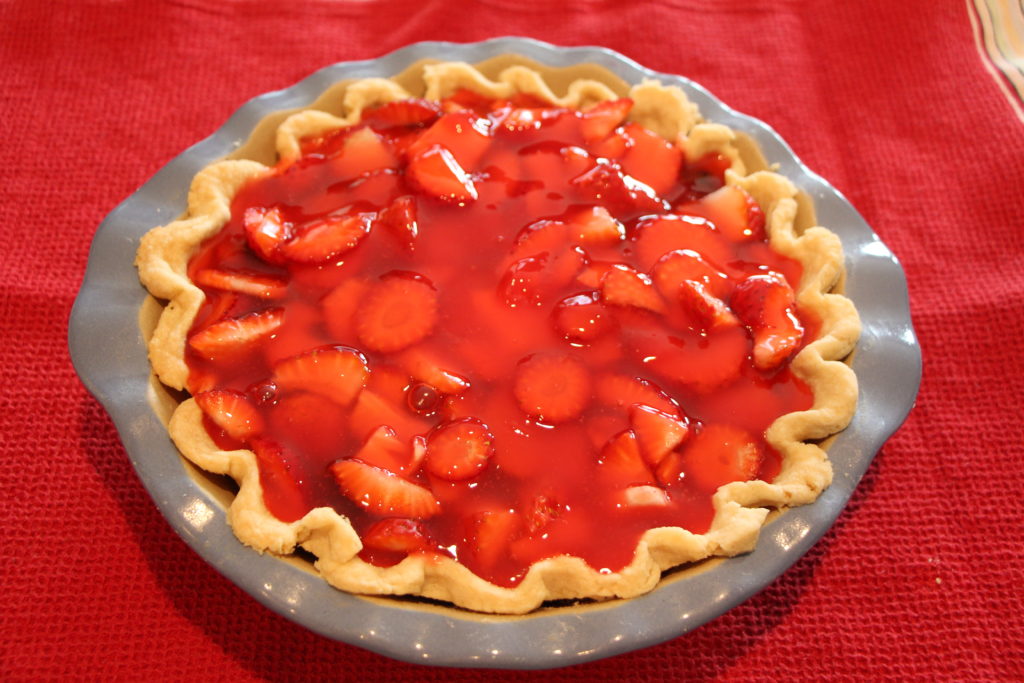 In a past blog I have noted that we like pie here and in "The Recipes" you will find the pie crust one we use and a few recommendations for that flaky crust we all love. Today in the fridge there are plenty of strawberries to be used for a pie before they spoil and some blueberries to be used as well. When the pie crust is completed it will go in the oven with the pork on different rack. I like to use the convect bake setting on my Jenn Air, but today the crust will be just fine on the roast setting.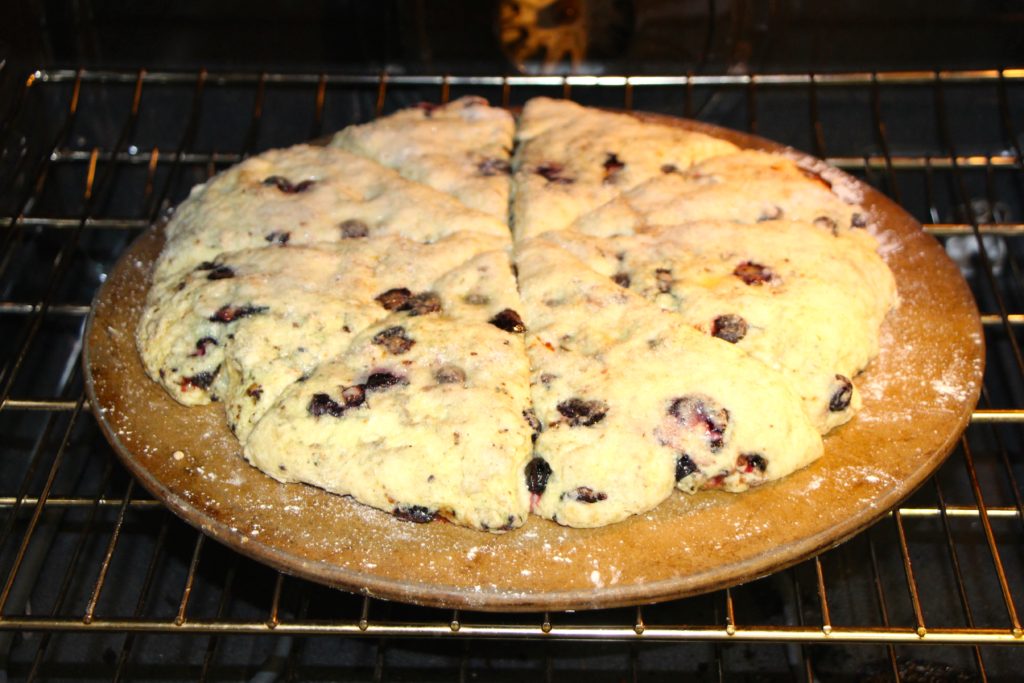 Next I will move on to using up the blueberries and will make scones, blueberry and orange peel is a nice combination. I have figured out a very good recipe for these after trying for a number of years, I combined a few to make this one to my own liking. Scones should be a little on the dry side, more like a biscuit or crust like texture rather than a cake or bar like texture. Frozen butter and sour cream are my two key ingredients that I think add to the flavor and texture and I will share my recipe in another blog. While the pie crust is baking, I will mix up the scone dough and pat it in a round on a baking stone, then out with the pie crust and into the oven the scones go!
Next the filling for the fresh strawberry pie is cooked and cooled a bit, I can speed up this process by putting the filling in the deep freeze or put the pan in the sink with cold ice water surrounding the pan, either works efficiently. Usually by this time the crust is cooled and I can slice the strawberries into the crust and then pour the filling on top and then into the fridge for about 2 hours or until the filling is set. I hear the timer and check on the scones, the top is a nicely golden brown crust and they feel and look done, we can eat them for supper and for breakfast tomorrow morning.
At this point I will go and quilt again until the pork is at about 145 degrees internal temp, here is what it looks like when it is done!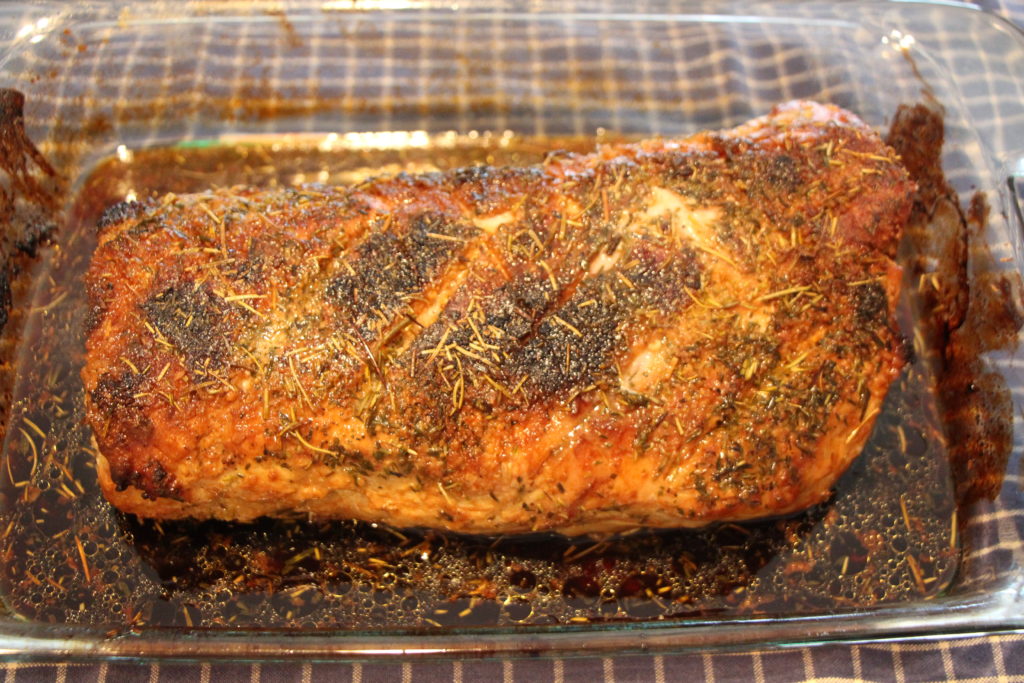 I will let this rest a bit and then slice it up to serve with some frozen vegetables, scones and of course, pie for dessert!
I like to be efficient with my time, being able to coordinate the things that need to be done that day does take some planning and after one has done it that way for years it just becomes second nature. Of course we all have days when the planned schedule just seems to fall apart and at that point we need to be satisfied with what we accomplished that day. Tell me your suggestions, what works for you to complete your schedule for the day? Now, I think I will go make more pie! Have a Great Day:)